Getting your car wrapped to make it stand out from all the other cars on the road is becoming the new trend. However, what do laws in India say about wrapping your cars?
The laws in India regarding the modification of vehicles are quite ambiguous. There is only 1 section in the Motor Vehicle Act that talks about modification in vehicles.
The section prohibits the owner from making any kind of change in the vehicle without taking approval from the Regional Transport Officer. If the owner makes any change, he has to get it approved by the RTO within 14 days of altering it.
However, this section does not say anything about vinyl or any kind of wraps on cars.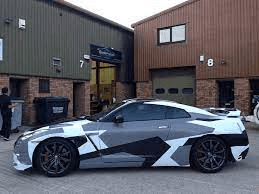 Judgement banning modification of vehicles.
In January 2019, a bench comprising Justice Arun Mishra and Justice Vineet Saran passed a judgment which almost banned any kind of modification to your vehicle. The court reasoned that when a manufacturer makes a car, he complies with all the safety regulations and altering the car through any kind of modification will jeopardize the safety of both the pedestrian and the driver of the vehicle.
But the judgement mostly talked about structural changes in the vehicle and not on non-mechnical modifications like wraps.
Are wraps on cars and motorbikes legal in India?
Yes, the wraps are technically legal in India as long as it is of the same colour as the vehicle. Applying wraps on cars other than the colour mentioned in the Registration Card (RC) is not legal in India.
You need to get approval from the Regional Transport Officer to apply wrap on your car of another colour. You may run into legal issues like seizure of vehicle if the colour of your car and colour mentioned on your RC do not match. It can also be problematic for you when a car of similar colour as yours is part of a criminal activity and when checked, it will show different colour on your RC.
So, it is best recommended to change the colour of your vehicle in the RC if you wish to apply a wrap of another colour on your vehicle.