No, generally most of the aftermarket exhausts are illegal and will land you in trouble with the traffic police. The same technicalities have been discussed in detail in this very article.
Introduction
It is customary for vehicle owners to customise their vehicles and two-wheelers to suit their tastes and preferences. After all, your vehicle is a reflection of your personality. People frequently make a myriad of adjustments to their automobiles, ranging from new alloy wheels to body decorations and so on. Replacing the factory exhaust with an aftermarket one is another popular modification made by vehicle owners, particularly in the case of motorbikes. This is what we will be discussing in detail.
We've all heard motorbikes with loud suppressors disturbing the night-time peace and becoming a nuisance in the neighbourhood. In fact, aftermarket suppressors became such a big deal that numerous state governments cracked down hard on motorists who had noisy aftermarket silencers, particularly Royal Enfield owners. Despite this, India has a thriving aftermarket suppressors business with no noticeable shortage of demand. So, what does the law say regarding aftermarket exhaust systems? Most aftermarket silencers are prohibited under the law, and here's why.
Aftermarket exhausts are not RTO approved
In India, aftermarket exhausts are banned unless certified by the RTO. This implies that only aftermarket silencers offered by automakers as an approved attachment are permitted in the nation since they follow the requirements outlined in the Motor Vehicles Act. Royal Enfield, KTM, and numerous other companies sell their own line of high-performance exhausts, and using them will not get you in the crosshairs of the authorities.
When and what makes an aftermarket exhaust legal?
The sound level produced by a motorcycle's exhaust system shall not exceed 80 decibels, according to the Motor Vehicle Act.
Any aftermarket exhaust for your motorbike can be purchased, but it should not make a sound louder than 80 decibels anything above that might lead you to be penalised and it is prohibited.
When you buy a new bike, you may utilise the silencer system that comes standard with it, regardless of how noisy it is. It is allowed to use a silencer once it has been registered by the RTO.
Is aftermarket Exhausts and silencers legal?
Another significant issue with aftermarket exhausts is that they are usually always louder than the permitted limit of 80 decibels, making them unlawful. Indeed, noise pollution was a significant reason why authorities in Bengaluru, Delhi, and other states launched a campaign to punish motorbike riders who fitted loud silencers on their machines. Needless to say, Royal Enfield motorcycles were at the centre of these campaigns, forcing the firm to develop a legal variety of aftermarket exhausts.
Aftermarket silencers do not comply with BS6 norms (Air Pollution)
Often, installing an aftermarket exhaust necessitates the removal of the catalytic converter. In case you didn't know, a catalytic converter is in charge of purifying silencers fumes to prevent dangerous particles from being discharged into the atmosphere. In reality, it is the catalytic converter's responsibility to ensure that motorcycles and scooters meet BS6 emission requirements. As a result, removing a catalytic converter to install aftermarket/high-performance suppressors will result in your car failing to fulfil BS6 emission standards. It is worth mentioning that there are presently relatively few aftermarket exhausts that are acceptable for low-cost BS6 automobiles.
What to do when caught with a loud exhaust?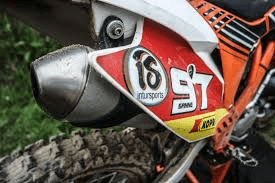 In a certain case when police personnel stop a person pertaining to a loud exhaust there is an essential mechanism which is needed by the traffic police to issue a challan for a loud silencer and that machine is called a decibel meter which precisely measures the sound. So, if police personnel are not possessing any such device, he/she cannot issue a challan to anyone just on the mere suspicion that the sound emitted by the suppressor would be more than 80 decibels.
Conclusion
If you choose to go with an aftermarket exhaust, make sure to get the ones that are officially marketed as an accessory by automakers. The market is filled with silencers that utilise decibel killers to minimise noise pollution, and their prices are sometimes insurmountable. In reality, many car owners opt for aftermarket exhausts that are not RTO certified and are never penalised by authorities since the decibel killer keeps the noise under control. However, keep in mind that such components are unlawful because they are not approved by the RTO and might get you in the cross-hairs if investigated and discovered by the authorities.
Also Read :
References
https://www.autocarindia.com/car-news/bs6-emission-norms-all-you-need-to-know-413968
https://www.carinfo.app/what-are-the-car-modification-laws-in-india/