Polygamy is a practice in which a man can marry multiple wives and keep them legally at the same time. Although the Hindu marriage Act, 1955 in India prohibits the practice of Polygamy, the Muslims come into the exception of this law as they are governed by their own personal law.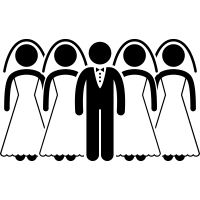 For example:- A Muslim man named Abdul married his 3rd wife without divorcing the previous 2 wives, so it can be said that Abdul is practising Polygamy.
Note:- Only Muslim men are allowed to practise polygamy in India, if a man of any other religion marries 2nd wife without divorcing the first one, he will be booked under the Indian Penal Code (IPC), 1860. (To get more clarity on this read this article: Is marrying twice legal in India?)
Polyandry on the other hand is a practice in which a woman maintains multiple husbands. In India, Polyandry is not explicitly legal, not even in Muslims. The personal law of Muslims allows only men to have multiple wives and not the other way around. Polyandry does exist in some parts of the world.
For example:- There is a plateau in Tibet where Ployandry is still practised, meaning the females there marry multiple male partners. It is actually quite common in that plateau where 2 brothers of the same family marry only 1 woman. That woman is shared between the brothers, they have equal "sexual access" too.
Note:- This practise is however very scarce and is left in very few parts of the world, like in some tribal islands in Carribean sea.
Difference between Polygamy and Polyandry.
Polygamy is a practise where a man can marry multiple woman whereas Polyandry is a practise where a woman can marry multiple men and maintain marital relations with them at the same time.
Recent Post:-